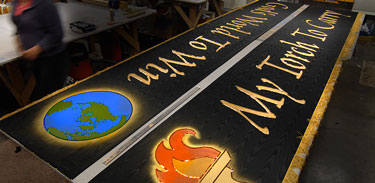 You can order any of the Christian Banners that you see on our website; ... Or for the same price you can order a custom church banner. We do not charge extra for design workup and pattern making as long as it is something that another church might like also. All the worship banners on our website are custom praise banners that churches all over the country have designed with us and ordered. So, don't be afraid... ask for what you really want! It may be that you just want a different colored background, or a verse that means something special to your congregation. Or you may have a design in mind that does not exist yet. Either way our design services are included in the cost of the church banner!

Custom Church Banners is what we do!


Bottom line

: You get what you want... affordably!


Read Satisfaction Guarantee - Read more "about our banners"


Whats Included:
Included in our custom church banner price:
Choice of Color, Text, Fonts, etc.
One Graphic and up to 21 letters of text
3 Layers - Fully lined with heavy weight material, plus our center layer of interfacing... our Worship Banners hang nice!
Rolled (not folded) in a box ready to hang.
Personal Customer Service


Extra Cost Items:
Top Bar and Finials ($25 extra)
Extra Graphics ($30 and up, depending on complexity)
Extra Letters ($.50 and up, per letter, depending on size)
Tab Top (Notched) $20 extra
Airbrushing ($30 and up, depending on complexity)
Flag Stand $35 each (additional shipping may apply)
Processional T Pole with extension ($30 extra)
Packaging and Shipping Charges are listed here.

(We may need to add additional charges for these items)
First Flag Stand - $15.00
Each additional Flag Stand - $5.00

Express Delivery Charges - Add to Ground Service Prices

3 Day Air add $35.00
2 Day Air add $65.00
Overnight add $125.00
Saturday Overnight add $140.00


Overview of a Custom Church Banner Order

Our process that results in a Custom Praise Banner that you will be pleased with normally goes something like this:
You decide on some basic ideas such as:
Size
Colors
Verses or Wording
Graphics
Trims
Communicate those ideas to us verbally, by phone, email, or fax. (sketches are good if you can)
Christian Banners will make up a few letter size designs to fax or email to you that will show what the finished banner will look like.
You review the designs to pick a favorite and make any adjustments necessary.(We may have to go back and forth a couple of times to get the design just right.)
You approve the design, we give you our final price.
Upon receipt of your payment we schedule the production of your church banner.
Your finished worship banner is shipped to you with full instructions on how to hang and care for your new praise banner.

Many of our 5' church banners are priced at $365 - $395. That's a banner about 5' x 36", which is our "average" size... and includes One Graphic and up to 21 Letters of Text.

A smaller banner say, 30" x 48" would start at $295.*

No tax, unless you are in WA!