"Attached is a picture of the new
banners up in our church.
We love them.
Thank you so much.."
"Joy to the the world Banners,
hung at Kennedy Center
Washington, DC.
Thank you again!"
"The banners looked
so great today!."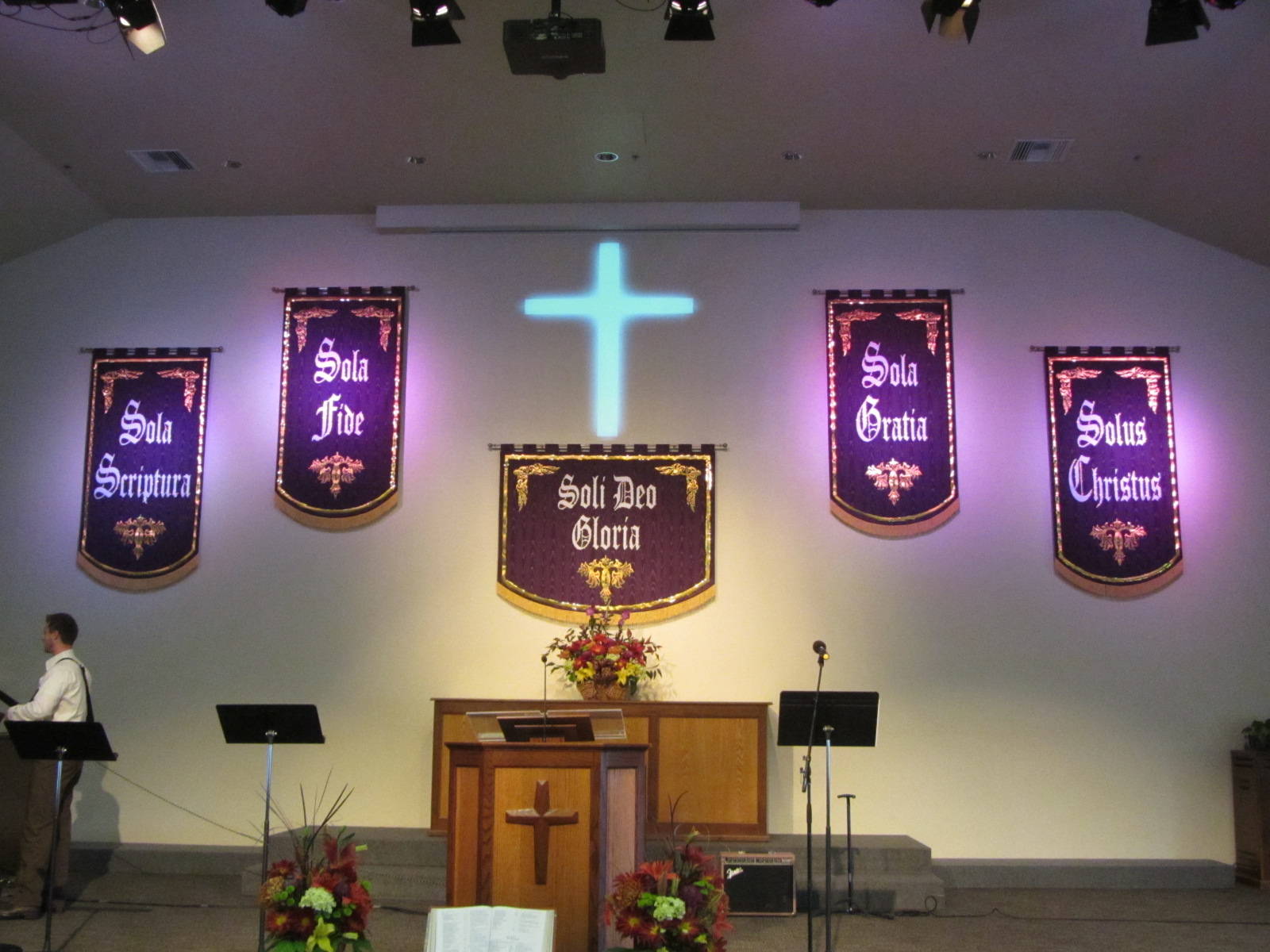 "The Banners were so pretty!
Everyone loved them, and it brought a new spirit of worship to the sanctuary.
To God be the glory!"
"Thank you very much for
creating our banner - it's
beautifully done. Everybody likes
it and we, the Altar Group, who
donated it to West Portal
Lutheran Church received a lot
of compliment. I'm attaching a
picture of how it is displayed at
our church."


"They are beautiful.
Thank you.
Glenda Bumgarner."






"I just want to let you know how
much I appreciate your hard
work to make the banner for St.
Timothy's a reality. It was truly a
day that I will always remember
and I thank you for your help."



Pastor Darryl L. Wakefield
"I have been meaning to drop you guy's a note regarding the banners that you recently custom made for our Church.
I am pleased ! I have received nothing but compliments.
You did a magnificent Job! The color, design, art work, layout, accent etc. was In my view divinely orchestrated.
Proudly displayed in our sanctuary to the Glory of God.
Consider us another satisfied customer whom you will be hearing from again in the not to distant future."

"We have hung the banners and they are really beautiful. Everyone has said how nice they are. I will send you a picture of how nice they look in our sanctuary unless you already have taken a picture before you sent them. Pastor Bull is very pleased with them. Thanks for all the back and forth with me on this... they are exactly what we were looking for!."


"HALLELUJAH!!!!!!!!!! The banners were magnificent! My church was thrilled. They helped with our joyous celebration immeasurably. I received many comments. All glowing and positive. Thank you for the beauty, craftsmanship, and efficiency. I will recommend you to anyone.."

"OH boy, this Banner is SO BEAUTIFUL!!!
You have done and outstanding job.
PRAISE GOD!! I love your work!!
Thank you so much for all the time and effort that you have put into this project for us. We will use this banner
with great joy and I know it will bless us.
Thank you so much."
"We received the banners yesterday and hung them up tonight at our service. They are beautiful and everyone loves them. We said a prayer of dedication and blessing for your business. Thank you for the beautiful work that you did on the banners and the great way in which you did business with us.
Again, many thanks and may God bless you and yours."

"I just wanted you to know we received it and it is AWESOME! The Lord surely inspired and worked through you! Thank you, once again, for an incredible banner! Our pastor will return from a 3 month sabbatical and his first Sunday back on the pulpit is August 7th. We'll "roll out" this banner as part of the worship service. Thank you again! We are so happy."

"I just had to tell you how very much we loved the banners for our church. They were beyond what I could have ever imagined. We dedicated them on Sunday. We purchased them with funds given for a wonderful lady who went home to be with the Lord, her daughters help to pick them out. They were so pleased too. Thank you and God bless your ministry."
"Wow!! I walked into church this past Sunday and was surprised to see that not only had our Thanksgiving banners come in but Pastor had them hanging in the front of the church. Thank you so much for such speedy service. And thank you for your very beautiful work. I am very pleased with both banners, they are just beautiful! Several people in the congregation remarked at how lovely they are."

"It's gorgeous!", "How beautiful!", "It sends chills down my spine.", "It is so beautiful, the prettiest I have ever seen." These are a few of the comments that I heard this past Sunday as our new Redeemer banner that we ordered from you hung in our sanctuary. Thank you for getting it to us on time. It arrived in excellent condition, was easy to hang, and definitely got everyone's attention. Your company is so easy to work with, and you give such personal attention to your customers and orders. We hope to do business with you again in the future. Thank you again for everything. May God continue to bless you."

"Got them yesterday and hung this morning
Easter - Sunday
Now that's timely"


"The lovely banners hung in our Sanctuary during the Season.
They were loved by all!"





"I was waiting to hang them next week and didn't bother even opening the boxes. It happened that today, I opened them to show to my husband.
And oh my God! -beautiful beyond description ! -quality beyond words!
Can't wait to have them hung next week for our International Prayer Convention in Washington DC!"



"Thank You, Thank You!
They are beautiful, they are awsome.
They bring a "Quiet" to the sanctuary as you view them and think about that night.
The Committee hung them two weeks ago and as you can see in the picture you have a wonderful, God-given talent that we felt in looking at our banners.
We couldn't wait for the congregation to see and enjoy them.
We're already talking about asking the congregation if they would like to contribute money to purchase the Thanksgiving Banner you had us go to East Peoria to see and one or two for Easter.
We'll be contacting you sometime next year I know. Until then, you and Tom and the children have a wonderful Christmas and a Happy new Year."
"I just wanted to let you know how pleased we were with the banners we purchased from you. They are beautiful and as well as anointed. They are our first banners as a church and we couldn't be happier with the response from our congregation and how they took our Easter program to the next level."

"Our banners that you made for our church have blessed us and have truly touched our people. Thank you for your beautiful work and labor for the Lord. They arrived just as you promised - in time for Easter and they were easy to install. Our people were just thrilled with them when they came Easter morning. Each service when I look at them, I thank the Lord. Truly the Lord led us to you..... May the Lord continue to use you to touch people's lives with His Message through the banners. Thank you again."

"Wow!!! I was truly amazed when I opened up the box containing our banners. The packaging was incredible and then I unrolled the banners!!! They are beautiful! Thank you so very much for completing them on-time. I will send pictures in a few weeks so you can see how wonderful they look in our new sanctuary. We serve an "excellent" God and I believe it blesses Him when his children perform their work with "excellence". I pray that the Lord will bless your business exceedingly, abundantly and more than you could ever ask or imagine.
A true "heartfelt" thanks!"
"Thank you so much!!! The banners are gorgeous!! You did an outstanding job and everyone is so pleased.
Now, are you ready for some more? We have in mind one for Lent and one for Easter. After that, maybe one for Ordinary Time.
I am working to revise some similar to the ones you did. A cross with a crown of thorns for Lent and possibly lilies for Easter.
Thank you again, just love your work."





"We absolutely LOVE our new pair of advent banners. The congregation is very pleased and we have heard many compliments about them. We appreciate your willingness to design this new pair and are happy to have received the first pair. Our sound-man redirected several of the overhead directional lights to highlight the banners and your use of shading and shiny highlights was very effective. The banners, especially the star, glow! Thank you so very much! We look forward to working with you again in the future.
Have a blessed Christmas season and wonderful new year!"

"Oh my gosh, the banners are the most beautiful things I have ever seen! They way exceed our expectations and we are in awe of your craftsmanship -- and all to glorify our Lord! Thank you for using your gifts and your talents to help share the word of God in such a magnificent way!
My next step will be to convince our church that we need seasonal banners!!! Yahooo!"
"Just a note to let you know I received the Banner last week in time for the Wedding on Saturday. IT was a beautiful banner and made the church look so elegant and beautiful. Mission accomplished. Thank you again for your part in making sure our day was perfect! I owe the rest to God and of course the Bride and Groom.
Take Care, and thanks again."

"GREETINGS IN THE STRONG NAME OF JESUS,
Yesterday, the Lord Blessed us to receive the banners, and I tell you, ALL GLORY BELONGS TO GOD!!!!!!!!! You business (ministry) is truly a Blessing to the Body of Christ. The banners are truly ANOINTED! We have not stop rejoicing, because when the Lord spoke to me and told me to order form your ministry, I did, and all Thanks and Glory belongs to God. I will be in touch with you next month to order two more, and again THANKS!"

"Hope all is well with you! It got pretty crazy here from Thanksgiving through Christmas, and I never sent you the pictures of the banners hanging in the sanctuary. Here they are, and everyone just loves them!"
We look forward to hearing your story!