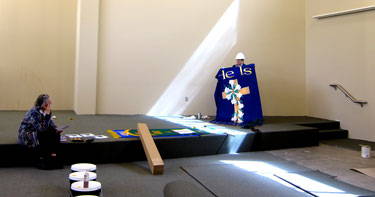 When the The Salvation Army Adult Rehabilitation Center in Portland Oregon needed to decorate their brand new location with Christian Banners, we had the chance to work on site since they are located only 1 hour from our shop.
We would love to come to your church and personally assist you in designing and decorating your church with worshipful banners… unfortunately due to distance, that is impossible most of the time. After working with customers on the phone and with the help of the internet often we feel as though we know them without ever meeting face to face.
Our aim is always to help you, our customers in every aspect of colors, design, and placement of banners in your church. Below you will find a list of common questions about our banners. It may be helpful to print this page out and bring it when you discuss banners with your church.
This is by no means a complete answer to every question, so please feel free to contact us.
Whether you call them Worship Banners, Praise Banners, Church Banners, or Processional Banners... we are here to help!
What's your turnaround time?
There is a good chance we can meet your deadline... as long as it's not today!
Call us at 800-373-8027 if you have an order that needs to be filled quickly.
Leave a note in the text box "special instructions" when you checkout and let us know if you need the order by a specific date.
Rush jobs may require extra shipping charges, depending on the time-frame.
All that being said, to help with your schedule, as much as is possible, place your order in time to give us 4 weeks to delivery date.
If you are ordering banners that we have in stock then you can get them earlier. We stock banners according to season, so if you order for the season the turnaround time is pretty fast. When in doubt call us!
What materials do you use?
The fabric we like best for banners is the Bengaline Moire. It has a wood grain look to it that is classy and hides dust, fingerprints, etc. We only use satin when specifically asked for. Satin has some bad attributes that include showing dust and fingerprints, wrinkles easily, and can outshine the other elements of the banner (letters and graphics).
Our Banners are 3 Layers Thick!
The banners are fronted with a drapery weight bengaline moire, backed with a heavy weight poplin, with a third layer in between of interfacing which makes them hang nice and straight without weights. We sew fringe in the bottom of the banner which helps to stabilize the bottom of the banner. You have your choice of a "Sleeve" or "Tab" top for your hanging bar to go through.
The letters and graphics are laser cut Metallic Tissue Lame` or Satin which is heat bonded to the banner and then outlined with a dimensional adhesive that is covered with a very fine Polyester Jewel Glitter or Sequins (depending on the size of the letter or graphic).
Some banners are further enhanced with Airbrush paint to give it a shadow, clouds, glory or rays effect. The banners can also have a perimeter trim of sequined braid
How wide and tall are the banners?
Our normal size banners are 7 ft. x 4 ft., 5 ft. x 3 ft., 4 ft. x 30 in., and some are available in 3 ft. x 20 in. for vertical banners. The fabric we use comes in 50 inch width so for longer banners (8, 9, and 10 ft.) we can stretch the design a little or use a 60 inch wide material if available. If you need even more width for a banner we can sew on side panels.
Does it cost extra to change a banner color?
No. Don't judge any of the banners by it's color. If you are looking for a pair or sets, we can make most of the banners match shape, color, font etc. Just tell is what you want.
What is included in the price of the church banner?
Base Prices of Banners ….
3 ft. banner $195.
4 ft. banner $325.
5 ft. banner $395.
7 ft. banner $495.
For larger sizes call, or see individual banners on our site.
These prices include one graphic, 21 letters of text, color and shape changes.
Extra Charges….
Design (1st hour) $79 (simple changes are free)
Extra graphics $30 - $50 ea. depending on complexity
Extra letters $.50 - $2 ea. depending on size
Tab Top (Notched) $30
Tassels $20 pair
Top bar and finials $40 (Style may change with supply chain issues)
Processional T-pole $55
Flag stand $50
Do you sell kits or patterns?
We do not sell kits or patterns at this time.
Can we copy your designs?
Our designs are the property of Christian Banners and should not be copied.
Can you make a banner from my design?
That's what we do best. Just send us a rough sketch of what you want. Include size, color, graphic ideas, font ideas with a phone number and we'll take it from there.
I have a huge wall to cover. How large a banner can I get?
Very large banners (7 x 12 ft.) are difficult to make, cost more and tend not to hang well. It would be better to think in terms of "How many banners should I use to cover this wall?"
If you have a very large area to cover you can use a design that spans multiple banners... we have the layout capabilities to suit your needs.
Can these banners be used outdoors?
No. These are strictly inside banners. Some people have used their banners in parades and festivals and that's fine but they cannot stay outside for long periods as any moisture on them will harm them.
What's your return policy?
You can order any standard banner and if you are not satisfied then you can return it for a full refund except shipping. If it is a custom banner, meaning something specific to your church that we could not resell then it is not returnable. Read more here.
How should I clean the worship banners?
They are easily cleaned with a vacuum with the upholstery attachment. If you have a big problem like a spill or something then take it to your dry cleaners and see if they can spot clean it.
How should I store the banners?
Preferably the banners should stay hanging somewhere and covered with a sheet in a somewhat climate controlled room. If space is a problem then rolling them up and putting them back in their box is ok. Make sure that they are rolled FACE OUT to keep the fronts from getting wrinkled. You can iron them a little when you get them out of storage. Call us with any questions.
Can a memorial or dedication be put on the back of the banner?
Yes. We do this free of charge. It will be printed on a 3 x 5 inch piece of fabric and put on the back of the banner. There really is no word limit. Just let us know you want this when ordering.
How do I use processional T Poles and Stands?
We sell a complete Top Bar, T Pole (processional), and Flag Stand that is designed to work with your banner. Add it (or just a top bar alone) when you order a banner. See the video below.